Analyse your skin with a single photo
Detecting skin cancer was never easier thanks to Artificial Intelligence.
Do you know what carcinophobia is?
The term is defined as a fear of suffering from cancer. Today, this phobia is quite legitimate, as according to the WHO, "cancer is the main cause of death throughout the whole world". Just in 2020, 10 million people died because of this disease. We can reveal the most common types of cancer:

breast cancer (2.26 million cases)
lung cancer (2.21 million cases)
colorectal cancer (1,.93 million cases)
prostate cancer (1.41 million cases)
skin cancer (different to melanoma) (1.20 million cases)
gastric cancer (1.09 million cases)
The main problem of this phobia is the belief that you are suffering from the disease from the time that any physical cancer-related symptoms are noticed. This situation becomes worse in patients with hypochondria and in people who have already had the disease and dread its recurrence, both of these live in a constant state of alert for any possible symptom…
Skin cancer, a silent pandemic
Each year over 78,000 cases of skin cancer are diagnosed in Spain alone, according to data from the Spanish Association Against Cancer (AECC). An extremely high figure that, fortunately, does not include a very high incidence of serious or very serious cases, and which is also preventable, detectable, and even curable!
Skin cancer, better to prevent than to cure
The most vulnerable group of people to skin cancer are those over 30 years of age who are exposed to the sun's rays for long periods of time.
According to the Spanish Dermatology and Venerology Academy, there are two types of skin cancer: melanoma and cutaneous nonmelanoma. The latter mainly encompasses the basal cell carcinoma (BCC) and spinocellular carcinoma (SCC).
The main causes for its appearance are exposure to sunlight, although it can also appear due to genetic inheritance. Treatment guidelines depend in large part on early detection, as well as the correct removal, which usually leads to a full recovery. For this reason, many companies are investing resources into research, with the aim of detecting skin cancer quickly and safely.
Prevention of cancer with a single photo from your own mobile phone
The Google technology company is currently working on a tool for smartphones that will enable them to detect if skin blemishes are malignant. Using Artificial Intelligence, any intelligent device will be able to analyse potential skin tumours.
This tool has been developed due to concerns by users, whose annual searches on this subject have increased in recent years.
 "2,000 million people throughout the world suffer from skin problems, but there is a global shortage of specialists in this field", according to the company's advertisement.
Today it is common for internet users to search if the symptoms they have coincide with those of any disease. This quick search is the first thing they do, even before going to the doctor. For this reason, Google is making this tool accessible to any of their users from their own browser. Its use helps to carry out a superficial analysis of the skin with just the camera on their mobile phone, tablet or computer.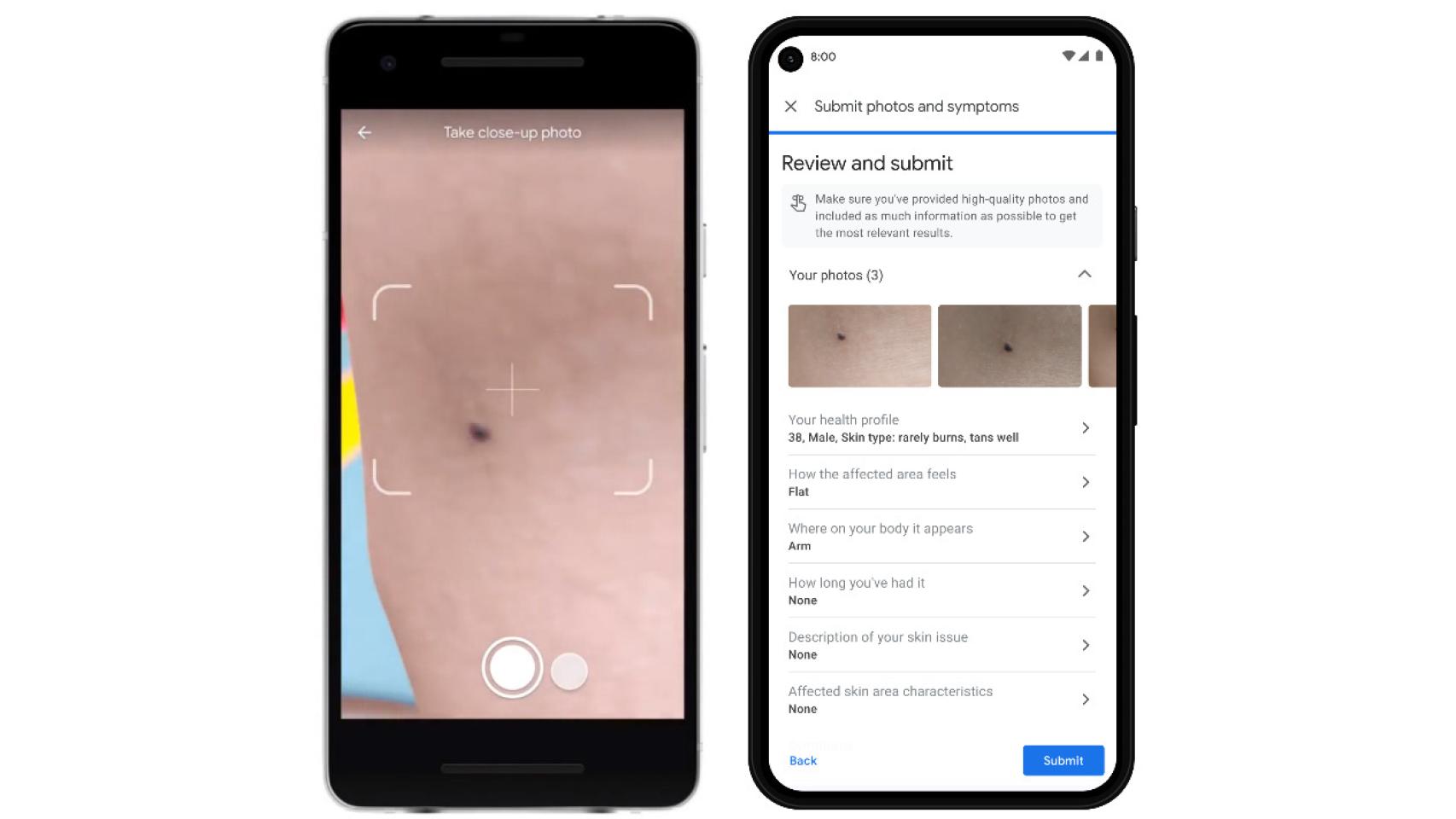 How does it work?
"Once you open the website, simply use the camera to take 3 photographs of the skin, hair or nails from different angles",

as Google has indicated. The next step is to answer a series of questions: type of skin, how long have you had the blemish, possible symptoms, as well as other questions that will help the algorithm to do its work.
"The model based on Artificial Intelligence analyses the information using 288 variables to provide a list of possible correlations that can later be exaimed in more depth", they emphasise.
All the information provided that shows correlations due to similar appearance or answering the most frequent questions will be reviewed by dermatologists and professionals. However, and despite its accuracy, the brand insists that if there is the slightest doubt, one should visit a specialist urgently.
"The app with Artificial Intelligence is not meant to provide a diagnosis or to be a substitute for medical advice".